Happy Easter weekend! We have finally (only just this weekend) gotten some sun, and the snow is starting to melt. Of course, with melting snow comes the releasing of germs and pollen so as per usual I am spending the Easter weekend sick. I think this is the 4th time in a row even! Oh life, you're mean sometimes!
As usual, there's been a lot going on!
Mermaid Ama
and I have been super busy doing back to back gigs every weekend and a few week-night shenanigans too. We've been expanding our reach and finding that we're at a point we no longer need to advertise, and we've got a wait list! We're booked as far as October, for mostly parties, with a few public events in place, and a few larger gigs too. Where can you see us in public? Well...
We'll both be doing
World Ocean's Day
this year at the
Maritime Museum of the Atlantic
. This will be my 3rd year in a row volunteering, and Ama's first. World Ocean's Day is June 8th, but the celebration will be on June 7th. The museum does this so school groups can come in. Ama and I will be talking about children taking an active role in their environment. We'll be sharing age appropriate tips for ecological action, have some natural objects set up for children to explore, be handing out sea shells, and of course posing for photos. We'll also give a brief talk about sharks and their role in our eco-system. The museum opens around 9am and we'll be hanging out til 3ish, though we will take a brief lunch break around 12ish! World Ocean's Day is a cause very close to my heart. The Museum has so many amazing participants I really feel like it's a great chance to bridge the gap with people and set their hearts on fire with ocean love! Follow my facebook page for more updates and details.
Last year, talking about Sharks with my friend Hector the Blue Shark


Over the first weekend of May, Ama and I will also be taking part with
Mermaid Mimi
in the
Make a Wish Foundation's
Princess Tea. Mertender Sean will also be there, dressed like a pirate. Ama and I were thrilled to be invited by our good friend Mimi. When I was a child, I lived separate from Ama, and as many people know there were a lot of problems. Make a Wish foundation sent me to Disney when I was 10 on an all expenses paid trip along with one of my other sisters (before Ama was born). It was an amazing experience, they even gave us spending money, and cameras for photos. It gave me a lot of hope when I was a kid and introduced me to a whole different world. I am hoping we can make the dreams come true of other kids and bring a smile to their face that day.
Raina at age 10 in Disney thanks to Make a Wish
This year Raina will once again be participating in the
Mahone Bay Pirate Festival.
It looks like I'll be there August 4th for the parade and I may be bringing a new mermaid with me! This is a free event and if you're in NS I really encourage you to go. Every year we have so much fun, I've been "Miss Deep Fry" for 2011 and 2012 hehe.
we always draw a crowd!
At some point during the summer we'll be hosting a free mermaid meet-and-greet as well. I'll be posting it on my FB, here, and the website when it's arranged.
March was filled with mermaid gigs, and in fact it has been our most lucrative month to date! I don't say it to brag, I just think it's super interesting when you consider the snow storms we have had in March. When I decided to make this company, many people thought it wouldn't work in Canada because of our winter. But we worked all winter and it's been our best year ever. March was a great month, we did 2-4 gigs per week, sometimes 2 in a day, a few week night things, and have spent time working on mermaid related projects too. We're so thankful to all our clients! Because of you we get to keep doing this wicked cool job! Here's a few video montages of our parties!
We always take videos and clips along the way. Not all can be embedded here because of how blogspot is done. But if you'd like to see any of our neat clips that are on facebook please click
here.
If you do NOT have FB and a box pops up telling you to sign in, simply press the ESC key, it'll close the box and you'll be able to see the videos without signing in. Here's a behind the scenes video we did of me applying Ama's makeup. We get so many questions about our water proof makeup, this video addresses them all and shows you how we do it!
A few house keeping updates for those of you who are local and possibly interested in booking... we're now opening up summer bookings. You can find our booking info
here
. We also launched a new page on our website to introduce you to all our staff! You can view it
here.
For something fun, check out this portrait my friend Eddy Chang drew of me! He's done quite a few portraits of me now, hard to believe they're all done in pencil!
Which leads me into my new art contest!
NEW CONTEST ALERT
- Draw Raina!
Draw Raina in any medium, and post an
image to our wall!
Mertender Sean and I will choose our favourite, and the community of fans can choose a favourite by "likes", both winners will be mailed an exclusive pack of mermaid prints! You can post as many drawings as you like on our wall, then share the link you've posted with friends and encourage them to "like" to help your chances. Need some inspiration? Check out this
fanart gallery
! Feel free to reference any photos on my page, but NO photomanipulations this time around. ♥ Contest closes April 30th, winners will be announced on May 1st.
p.s. if you're someone who isn't on fb feel free to email us your image raina@rainamermaid.com
We decided to take a break from mermaid gigs in May after we do the princess tea. This is for several reasons, the main one being that my splash tail is going to be sent to Raven to be taken in! I've gone down a few sizes after adjusting meds, hitting the gym, and being so active. My poor tail is baggy! She's going to take it in and add some fun new things to it. Personally, I can't believe how well this thing has lasted. It's over a year old and I use it mercilessly!
We're also going to take the time to prep some things for the summer, update all our accessories, and LAUNCH MY BOOK which is super exciting. It's in the finishing stages, and will be published in May. I was originally planning on publishing through Amazon but in order to collect the money I make as a Canadian it was going to require a trip down to the states and a lot of money up front. :( So I won't be able to do that at this time. I'm using a Canadian company- but don't worry, the book will still be available internationally. It's not going to be as inexpensive as I was hoping. Originally Amazon was going to charge me 5$ per book to print, meaning I could print many, ship them to myself, and sell them from home and online much cheaper. This other company will be anywhere between 10-15bucks per book for manufacturing fees, and then the company charges a fee on top of it. I need to charge something too in order to compensate my own money spent, and I am hoping I can keep it low. The first bit of money I receive will go toward having the book published in e-reader format. That costs about 400$. Any money received after that on my end is going toward hiring a local artist to illustrate my children's books. Gotta keep that stuff moving. I'm anticipating a cost of between 20-25$ CAD. Curious if this book is for you? Check out my table of contents...
click the photo to make it bigger
Mermaid Author Carolyn Turgeon is working on a lovely forward, the photoshoot for the cover and back cover are just being finalized (I seriously can't wait for you to see it all so I'll be sharing on my page) and the book is in formatting land. It's been such an amazing experience to write this, I've shared some personal stories, information I know isn't available anywhere else, images not seen yet, and loads of helpful tips broken down into steps.
I wanted to share something I've already shared on FB, but wanted to share here as well:
I was really surprised when a young party goer asked me recently if I ever got bullied for being a mermaid. I thought about it for a moment, and then I told her yes, even mermaids can get bullied. She asked me what I do and how I feel when

people say mean things to me or about me. We swam along and I thought about it for a moment. I told her mean things hurt my feelings, just like everyone else. But I don't change anything about myself unless I feel I should for my own reasons. Because in the end, all I can be is me, and mean people often want you to change some part of yourself because they don't like it (and really, it's because they don't like some part of themselves). I told her I get sad some times like people, but then I remember I have a really cool life with great friends and it makes me happy. She agreed that this was the best way to do things, and perked right up. This was a young kid, and even amongst a party with friends and fun she was having trouble forgetting something sad. Think twice before you say something mean or critical of someone else, and consider your reasons for why you're saying it. Sometimes, things DO have to be said! But choose your words carefully, especially with children. As adults, we all find it hard to move past bad things, it can be that much harder for a child. ♥ I was so proud of the young lady for even striking up such a conversation. I see big things in her future, and she inspired me. ♥
oh oh oh! I almost forgot! Miss Mermaid Ama is coming into her own. This past month we did a radio interview for a documentary project through CKDU. (No links yet, we will post when it's all done and online!) Ama is a bit nervous about public speaking, but you would never know it. She was amazing, articulate, and so smart. I tear up thinking how proud I am of her. My baby sister has come so far in the past year. I'm so thrilled she's taken to mermaiding and enjoys it so much. Her sweet 16 is just around the corner too. She's growing up! Did you know there's 12 years between us? Hah I'm old.
A few interesting videos I wanted to share with you. They aren't me, but women I really look up to. The first is one of my best friends, Raven, the lady who made my tail. Check out this video she made performing in her tank without a tail! The video wont embed, but you can watch it here
The other video clip is my mer-idol and inspiration Hannah Fraser swimming with WHALE SHARKS. Yes you read that correctly. Check it out for some major inspiration.
In very fishy-fun news, our underwater housing arrived for our cannon t3i! So excited beyond belief. Up until now we always do our photos and video underwater with a point and shoot camera. It's been great, but most of the photos are fluke as we can't control much with this camera underwater, and the battery life isn't long so our videos are all the same. Well, that's all changing now that I can put my big camera in the water. You can expect lots of cool stuff from Sean and I in the future- for sure!
Our work t-shirts also arrived! Mertender Sean will be wearing his at most gigs so clients can identify him, and Ama and I will be wearing ours at events where we require our legs. Here's what they look like on the back:
Here's what the ladies look like on the front. For Sean's, his logo is on his sleeve.
Our giant banner that we'll be using at public gigs also arrived too! I was floored by how inexpensive it was, and by how fast it got here!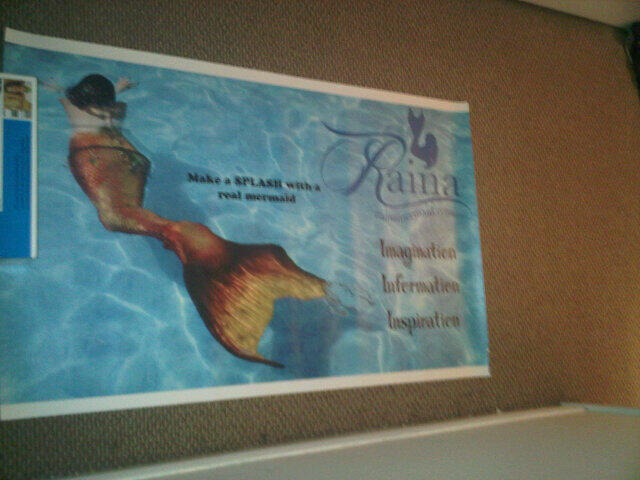 Finally, I wanted to remind you the new movie by a friend to all the ocean, Rob Stewart, is coming out on April 12th in Canada. It's called REVOLUTION. As I've previously explained, Rob is the mind behind the hit Sharkwater which exposed shark finning to the world. Revolution is every bit as ground breaking. Mertender Sean and I got to have an advanced screening and meet Rob and chat! Check out the trailer.
Well that's everything for this edition of mermaid craziness! I hope you all have a happy and safe Easter, enjoy some sun, and get your fins wet! Here's hoping I get over this silly cold.
Lots of love and fishes, Raina